What customers say about Better Homes and Gardens Real Estate Agents....
Customer reviews of services provided by Better Homes and Gardens Real Estate Agent say more great things about working with our agents. We are proud of our agents, their willingness to help others and move transactions to the closing table. Don't take our word for it, read the testimonials below. When you work with one of our agents, an entire support team helps behind the scenes. Give us a call today 850.837.8880. We work for you!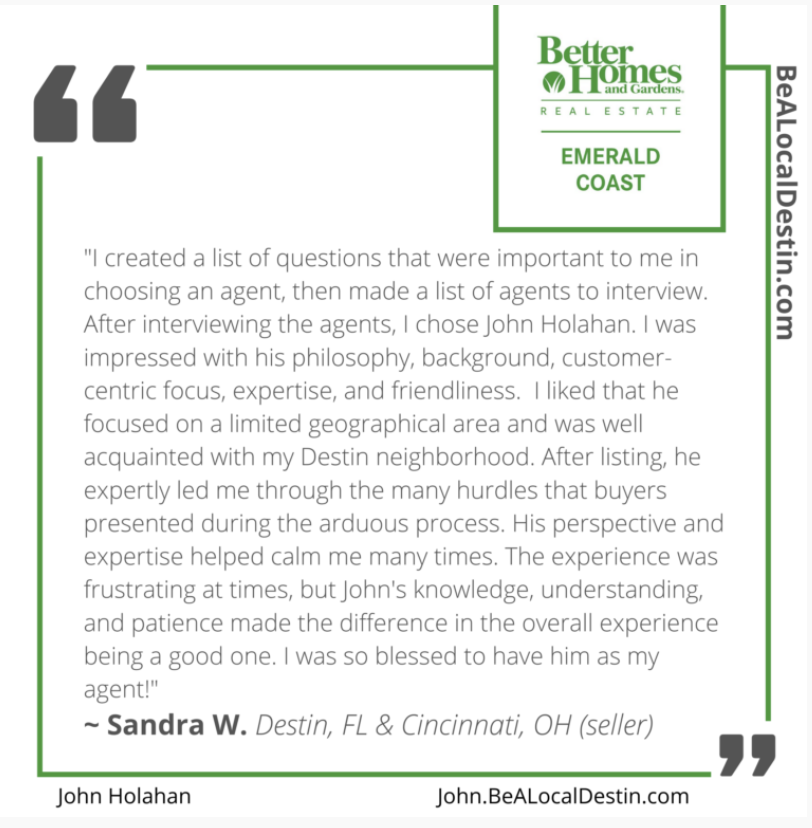 His perspective and expertise helped calm me many times....
"I created a list of questions that were important to me in choosing an agent, then made a list of agents to interview. After interviewing the agents, I chose John Holahan. I was impressed with his philosophy, background, customer-centric focus, expertise, and friendliness. I liked that he focused on a limited geographical area and was well acquainted with my Destin neighborhood. After listing, he expertly led me through the many hurdles that buyers presented during the arduous process. His perspective and expertise helped calm me many times. The experience was frustrating at times, but John's knowledge, understanding, and patience made the difference in the overall experience being a good one. I was so blessed to have him as my agent!"
~ Sandra W. Destin, FL & Cincinnati, OH (seller)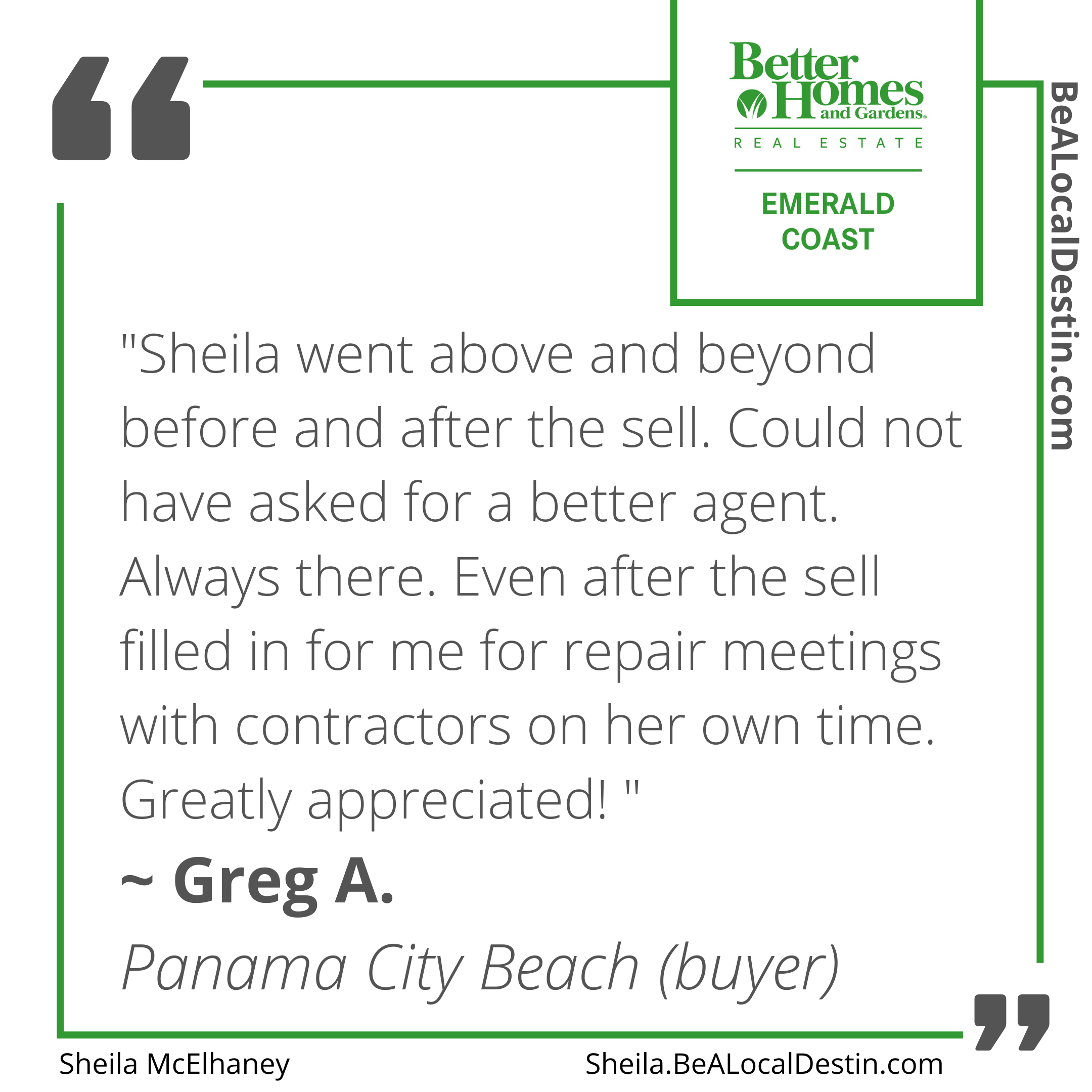 Couldn't ask for a better agent.....
"Sheila went above and beyond before and after the sell. Could not have asked for a better agent. Always there. Even after the sell filled in for me for repair meetings with contractors on her own time. Greatly appreciated! "
~ Greg A. - Panama City Beach (buyer)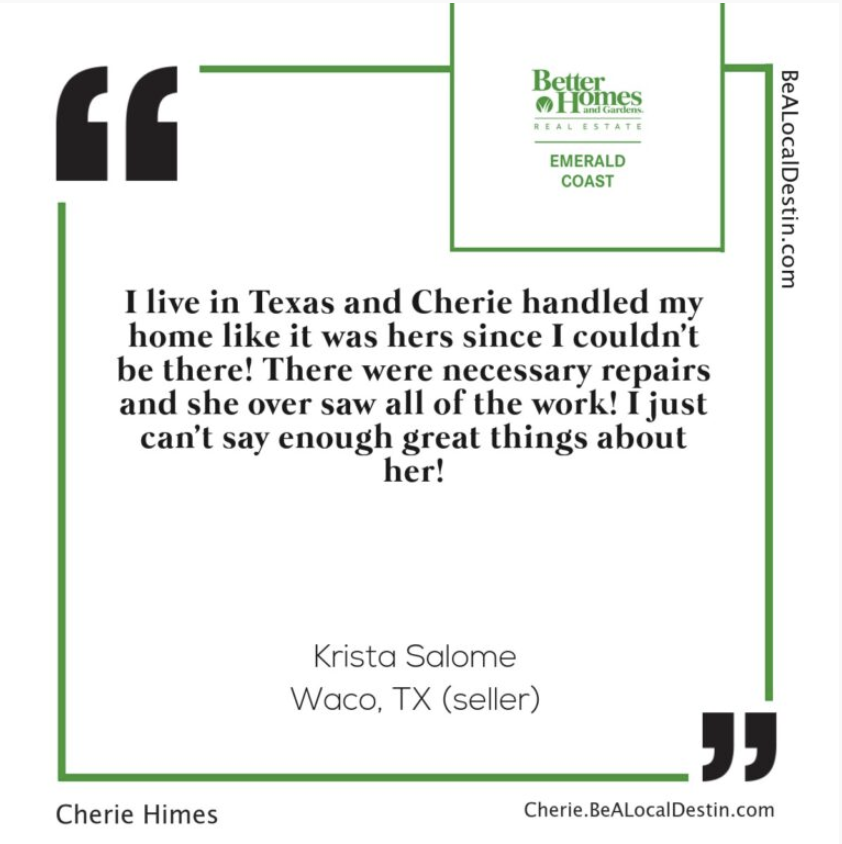 She handled my home like it was hers....
I live in Texas and Cherie handled my home like it was here since I couldn't be there! There were necessary repairs and she over saw all of the work! I just can't say enough great things about her! ~ Krista Salome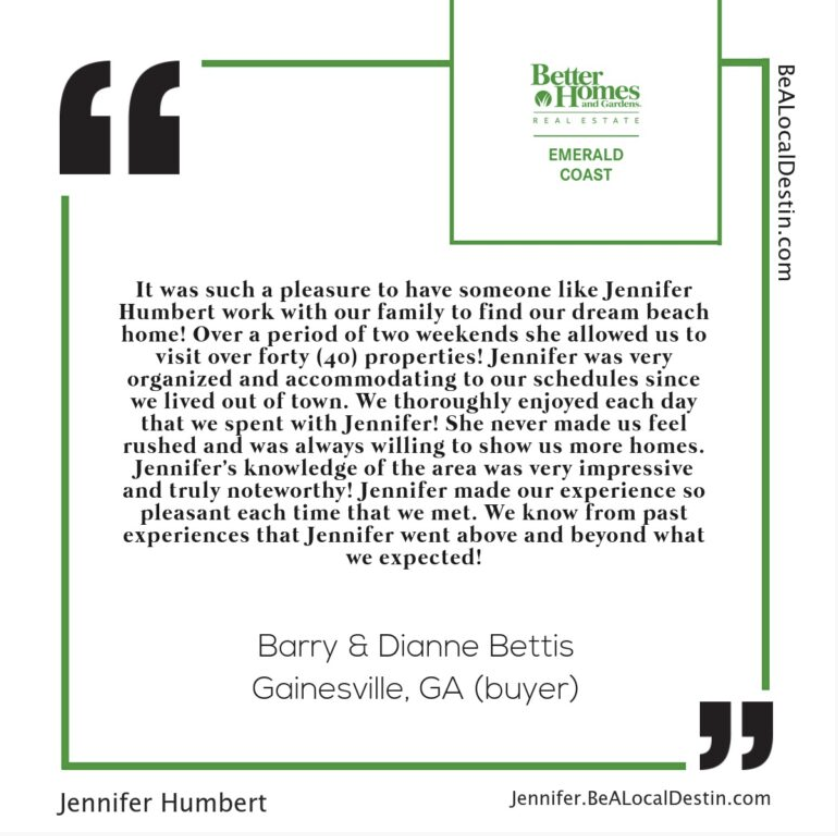 We thoroughly enjoyed each day we spent with Jennifer......
It was such a pleasure to have someone like Jennifer Humbert work with our family to find our dream beach home! Over a period of two weekends she allowed us to visit over forty (40) properties! Jennifer was very organized and accommodating to our schedules since we lived out of town. We thoroughly enjoyed each day that we spent with Jennifer! She never made us feel rushed and was always willing to show us more homes. Jennifer's knowledge of the area was very impressive and truly noteworthy! Jennifer made our experience so pleasant each time that we met. We know from past experiences that Jennifer went above and beyond what we expected! ~ Barry & Dianne Bettis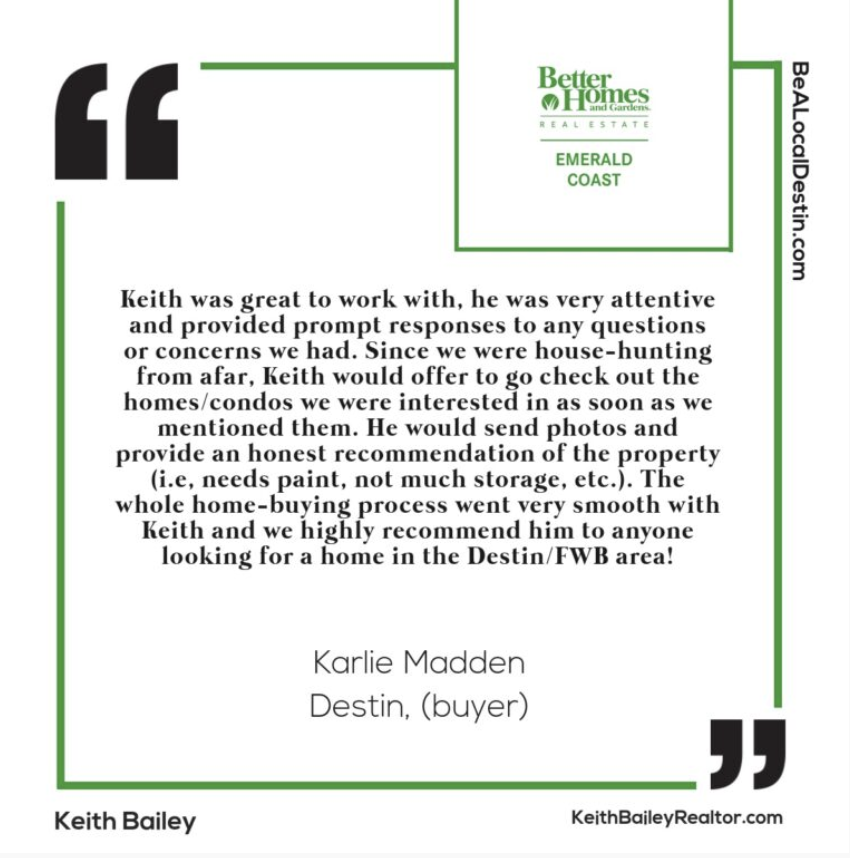 The whole buying process went smooth with Keith....
Keith was great to work with, he was very attentive and provided prompt responses to any questions or concerns we had. Since we were house-hunting from afar, Keith would offer to go check out the homes/condos we were interested in as soon as we mentioned them. He would send photos and provide an honest recommendation of the property (i.e. needs paint, not much storage, etc...) The whole home-buying process went very smooth with Keith and we highly recommend him to anyone looking for a home in the Destin/FWB area!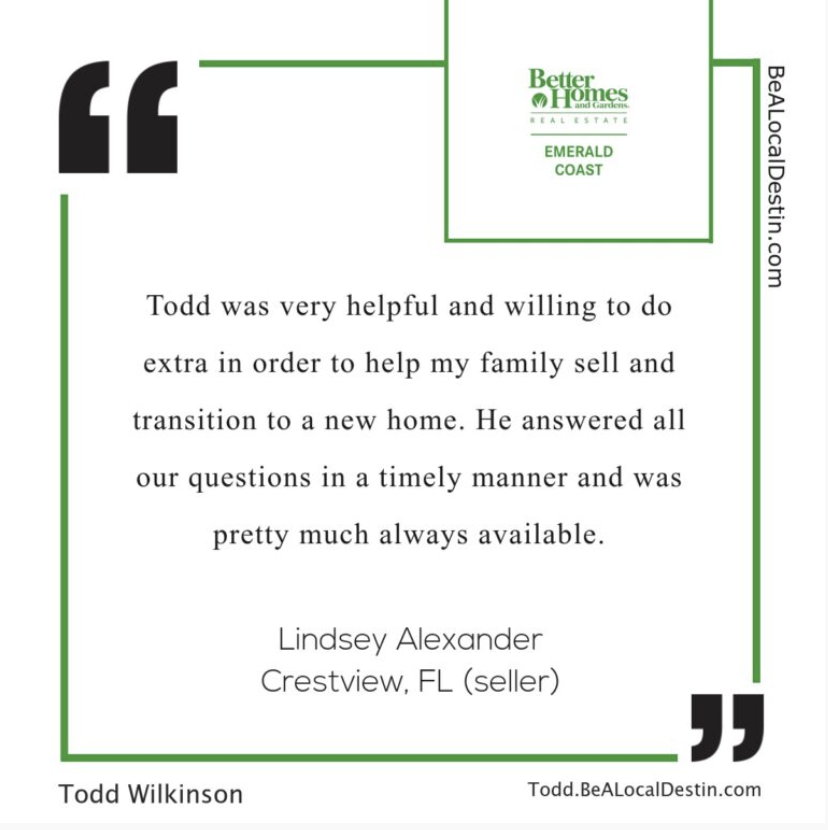 He answered all our questions in a timely manner....
Todd was very helpful and willing to do extra in order to help my family sell and transition to a new home. He answered all our questions in a timely manner and was pretty much always available. ~ Lindsey Alexander
I was extremely pleased with her omni channel approach.....
Yitka and team were tremendously helpful as we explored options for a vacation home in Destin. I was extremely pleased in her omni channel approach to communication which made her extremely pleasant to do business with. Her resources and suggestions were top notch from lenders, inspectors, contractors, etc... She is knowledgable of the area and market. We will do business again with Yitka! ~ L. Noe